Group fitness classes are quickly gaining popularity due to their fun energy, effectiveness, and built-in support.
If you are curious to try group fitness classes but are feeling nervous or aren't sure what to expect, we've got you covered.
Read on to learn what to expect from your first group fitness class, including what to wear to group training classes and common gym etiquette for group fitness classes.
The Benefits of Group Fitness Classes
Along with the regular benefits of exercise, such as improved strength, increased flexibility, a natural mood boost, and increased energy, group fitness classes offer unique benefits, such as:
Have fun and enjoy your workouts more!
Connect with like-minded people who are also working on improving their health
Gain motivation and automatic accountability
Maximise your results due to The Kohler Effect
Become part of a team/community
Cost-effective alternative to personal training
Eliminate the guesswork and enjoy the built-in structure of a professionally designed workout
Enjoy the positive energy from the group and an infectious vibe
Reduce your chance of injury through professional support and guidance from your instructor
Related Reading: 20 Benefits of Group Training
What to Wear and Bring to a Group Fitness Class
If you are new to group fitness, you may be wondering what to wear to a group training class and what to bring.
Here are tips on what to wear and bring to class:
Opt for comfortable clothes that do not restrict your movement (i.e. leggings or shorts, a tank top or t-shirt, etc.)
Bring along a pair of clean, supportive shoes
Bring along a full water bottle to stay hydrated throughout the class
If you have long hair, bring along an elastic hair tie to secure it back
Opt for clothing without excessive details, zippers, drawstrings, or buckles
Remove any accessories or jewellery
Choose unscented products if possible
Avoid ill-fitting or overly baggy clothing
The Importance of Arriving Early
For your first group fitness class, it is important to arrive 5 to 10 minutes early. This will give you a chance to familiarise yourself with the environment, meet your instructor, meet other class members, and get ready for class.
At The Tribe, our instructors will make sure you feel comfortable and welcomed right away. We are here to help you enjoy our workout as much as possible, while also helping you stay safe and make progress toward your fitness goals.
When you meet your instructor, be sure to let them know if you have any concerns, physical limitations, or previous injuries.
Even after your first class, plan to arrive 5 to 10 minutes early. This ensures you do not disrupt the class and gives you a chance to catch up with friends before the class begins.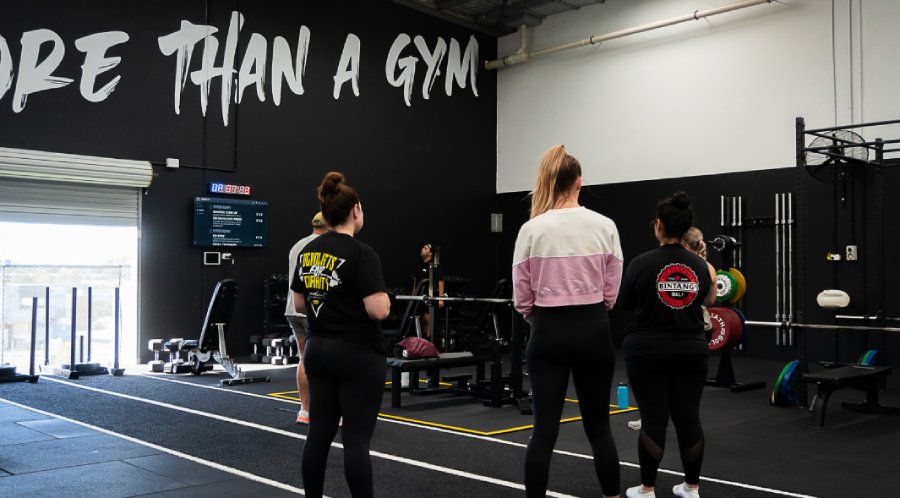 Class Format and Structure
When you take a group fitness class at The Tribe, you can expect high-quality coaching and a comprehensive class format. Each of our group training classes includes:
A thorough warm-up
A professionally designed workout featuring effective functional strength and conditioning exercises
A proper cool-down
Modifications and support provided by your instructor, as needed
To ensure you get adequate support from your coach and teammates, we limit our group class sizes to 7 clients per coach, or a maximum of 2 coaches and 14 clients.
Common Etiquette and Expectations in a Group Fitness Class
Whether this is your first group fitness class or you are a seasoned pro, there are certain expectations and common etiquette to follow in a fitness class:
Arrive on time (ideally, this means showing up about 5 to 10 minutes before class — be sure not to disrupt a class that is finishing up)
Be supportive and encouraging of your classmates
Ask for help or modifications from your instructor if needed
If you are sick, stay home
Leave personal belongings off to the side in an appropriate space
Make sure your cell phone is off and do not check it during class
Avoid talking over the instructor or disrupting the class
Be mindful of personal space
If you use any equipment, wipe it down and put it back after class
Tips for Staying Motivated and Engaged During a Group Fitness Class
Group fitness classes are naturally motivating, but here are some additional tips for enjoying your group training:
Soak in the positive vibes and great energy of other class members
Relax and have fun!
Take a quick breather if you need to
It's okay to be nervous or to ask for help
Don't worry about what you look like (pay attention to your instructor rather than the mirror, unless you are checking your form)
Don't compare yourself to others — this is YOUR journey. Be proud of where you are at! Just showing up for class is a huge accomplishment and you should be proud of yourself for supporting your health and wellness.
Related Reading: How Group Fitness Classes Can Change Your Life
Ready to Try a Group Fitness Class?
Our small group classes feel more like a community than a class, so it is no surprise our strength and conditioning sessions are The Tribe's most popular fitness class. We'd love for you to join us to experience the supportive atmosphere and upbeat energy for yourself.
If you have questions or concerns, please contact us. We'd be happy to answer any of your questions about our group training classes, help put you at ease, and support you every step of the way.