We strive to create a supportive and welcoming community at The Tribe. Our members are always pushing themselves to be better inside and outside of the gym. Here are some testimonials of our happy clients.
Clare Poole
July 2022
What can I say about the tribe other then AMAZING. Coaches who listen to you, push you to be the best you can be. I have never trained anywhere I felt so heard. The Tribe family are amazing everyone is so welcoming and the vibe is so empowering. everyone encourages everyone it is an incredible place to train.
Alisi N Daniel Zisis
November 2021
The Tribe is so much more than a gym. It's a community… a family so unique and diverse but yet united by their shared love for physical and mental health and fitness. The coaches Josh, Jaime and Coel are amazingly supportive and the best at what they do and follow a holistic approach to health and fitness. Their passion is undeniable and can be witnessed by the success their clients experience. No matter your goals these guys can get you there! On top of all this the members are so warm and welcoming and make you feel like part of the Tribe from your very first session. I have tried so may gyms over the years but this one is by far the best. Highly recommend The Tribe Strength Through Movement. Give them a go… you won't regret it. Love the Vibe at the Tribe!
Ryan Sunol
June 2020
The Tribe is not only a gym but a family as well. Ever since I first came here for a charity event they have been so incredibly welcoming that I've been here almost every day since. I honestly couldn't think of a better bunch of people to spend time with. Being apart of this place has been a home away from home for me and for that I am ever grateful. I would highly recommend this to anyone thinking of giving it a go!!
Jermaia Junior
January 2020
The boys at The Tribe are the best at what they do. Working on technique before lifting has been an eye opener and has made me realise I've been doing things the wrong way for while. Can highly recommend The Tribe gym if you want to see improvement in yourself.
Mikayla Kidd
January 2019
The Tribe is the best place to train. The gym is very friendly and has a very encouraging environment to it. I have trained here before in the Comp4ss sports academy group which was an amazing experience for me, I gained a lot of knowledge and also made me physically and mentally stronger. Both Aunty Jamie and uncle josh have a lot of experience and knowledge and will make sure you are being pushed to the best of your ability.
Shelby McEwen
December 2018
I can't thank these wonderful humans enough for the amazing service they deliver. I have been "working out" at a generic gym for 7 or 8 years, had a personal trainer as well as training on my own and have NEVER seen a change like the one I have experienced since being a part of The Tribe family. They have helped me step out of my comfort zone and push myself to new limits. Their support is sincere, refreshing and SO motivating. You guys are the best!
Jarrard McKay
January 2019
I've been a member of the tribe for over 18 months now. Going from a very labour intensive job to being relatively sedentary, I needed somewhere to go to keep fit. I didn't expect to actually ENJOY TRAINING every day I go to THE TRIBE, but as a huge credit to Jaime and Josh, i really do look forward to each of my sessions, and really enjoy each session. The results each and every person who trains at the tribe receive are all accredited to the mind set Josh and Jaime instil into all of us. You become part of the Tribe Family as soon as you set foot through the big roller door.
At The Tribe we love hearing feedback, how we have helped people and how we can be better. Here are some reviews:
Ready to up your gym game? Come and join The Tribe today, we are a welcoming community offering a range of strength coaching.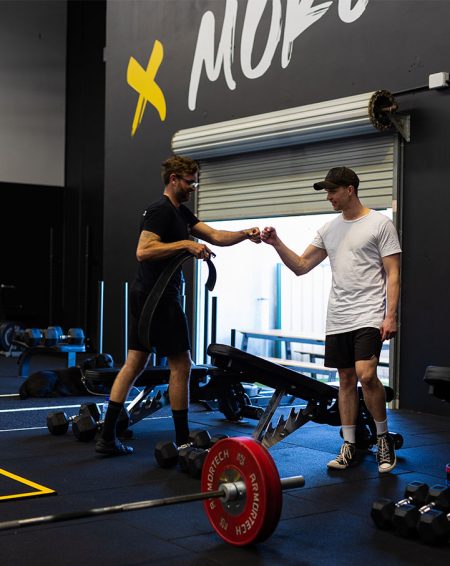 If you have questions about our group training or 1:1 coaching, lets us know, we are happy to help find the right fit for you and your gym training.