Online fitness coaching has become increasingly popular in recent years, especially with the rise of virtual communication technologies.
Fitness enthusiasts now have the opportunity to work with expert coaches and trainers from all over the world, without leaving their homes.
In this blog post, we will explore some of the top benefits of online fitness coaching.
What Is Online Fitness Coaching?
Work deadlines. Healthy meals to prepare. Family schedules.
When is there time to exercise when life can be so hectic?
We know how busy life gets and how easy it can be to move exercise to the bottom of your to-do list. But our dedicated team at The Tribe is here to help change that.
Online fitness coaching offers access to convenient, personalised, flexible training that can be done on your own time, right from the comfort of your home.
The Top Benefits of Online Fitness Coaching
Convenience
Work out anywhere. Anytime.
Online fitness coaching offers the convenience of being able to access your workouts and communicate with your coach through a smartphone or a computer, eliminating the need to travel to a gym or work out at a set time.
Online fitness coaching offers many benefits in terms of convenience and flexibility, including:
Workout in the privacy and comfort of your own home — this is especially great if you are brand new to working out or intimidated by gym settings
Allows you to stick with a consistent workout routine, even if you travel frequently
No need to get to a gym or a specific place — you can be in your living room, a hotel room, or whatever works best for you
Enjoy the physical and mental benefits of exercise, even with a busy schedule
Customise your training according to your schedule (have a change in plans? You can easily rearrange your workout and do it at a different time)
As long as you have a reliable Internet connection, you and your trainer can be anywhere in the world and still be able to connect regarding your training schedule, progress, workouts, and nutrition plan
Personalisation
Online fitness coaching allows for a more personalised approach to fitness. Your coach can design a program tailored to your specific goals, preferences, and fitness level.
You can also receive one-on-one coaching and feedback, as well as adjustments to your program as you progress. This can relate to both your gym program and your nutrition plan.
Our online fitness training is tailored to your individual needs and goals. We re-assess your progress and goals every week to ensure you are moving forward toward your goals.
By providing a program tailored to your current fitness level and adjusting it regularly, our online fitness coaching programmes offer maximum results in minimal time.
Variety
Online fitness coaching provides access to a wide variety of programs and coaches. You can choose a coach based on their expertise, coaching style, and approach to fitness.
This allows you to find a program that is best suited to your needs, preferences, and overall goals. If you struggle to stay motivated with your fitness routine, the variety and customisation offered by online fitness coaching is another important benefit.
Knowing you can switch up your routine at any time or shift your focus is a great way to maintain motivation.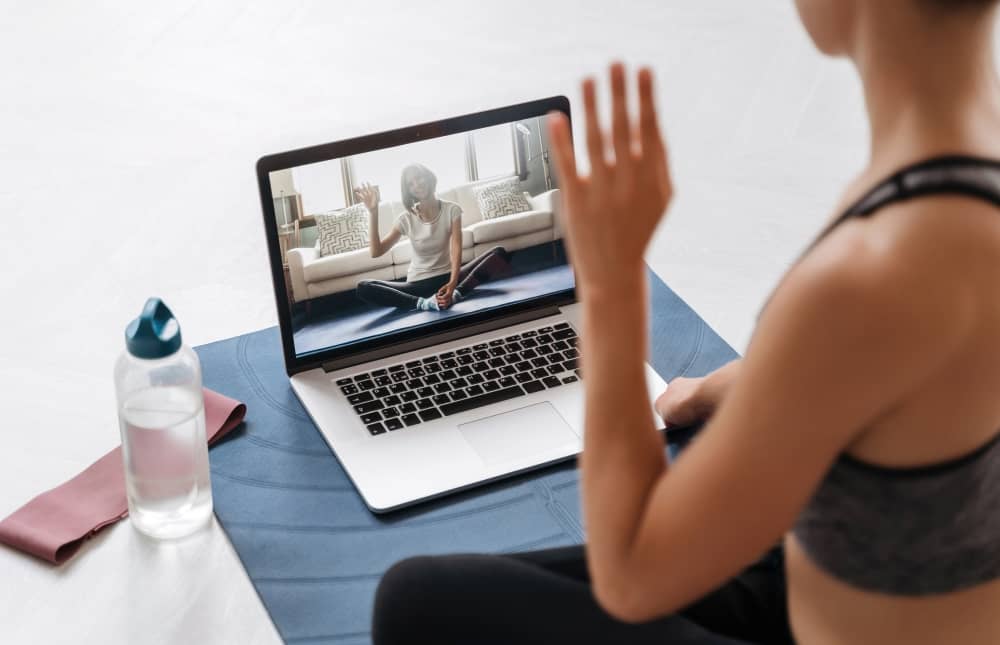 Accountability
Do you struggle with accountability when it comes to your workout routine?
Online fitness coaching provides a level of accountability that can be difficult to achieve on your own. Your coach can help keep you motivated and on track, update you on your progress, give you feedback on your lifting technique, and provide guidance and support when you need it most.
Additionally, many online coaching programs offer community support, allowing you to connect with other like-minded individuals who are also working towards their fitness goals.
We make sure our coaches are easily accessible by offering interactive online training software, video reviews, and other ways to check in with your coach.
Savings
Online fitness training is a more cost-effective approach compared to personal training. Along with being more affordable than a 1:1 trainer, online fitness coaching saves on the travel expenses of getting to and from a gym.
Who Is Online Fitness Coaching For?
Online fitness coaching is an amazing way to transform your body, and it is suitable for all individuals. However, you may find online fitness coaching especially beneficial if:
You travel frequently
You are struggling to find the time to exercise
You need more flexibility in your training schedule
You enjoy the comfort and convenience of working out from home but need additional accountability and structure in your training programme
You need personalised advice and support in reaching your fitness goals
You want to make sure you are using proper lifting techniques
Is Online Fitness Coaching Right for You? Find Out More Today
Online fitness coaching is flexible, cost-effective, and an incredible way to transform your body and health.
With the ability to customise a program based on your fitness goals and schedule, online fitness training can help even the busiest individuals improve their strength and wellness.
If you are ready to be your strongest, healthiest self, we invite you to contact our team. We'll gladly answer any questions you have about online fitness coaching or help you set up your first training session.
Our team of strength and fitness coaches is here to help you maximise your training results, pinpoint the right nutrition plan for you, and help you achieve life-changing, sustainable results.